The compact Ruggedized Stabilization Mount 400 targets the acquisition of perfectly stabilized offshore data.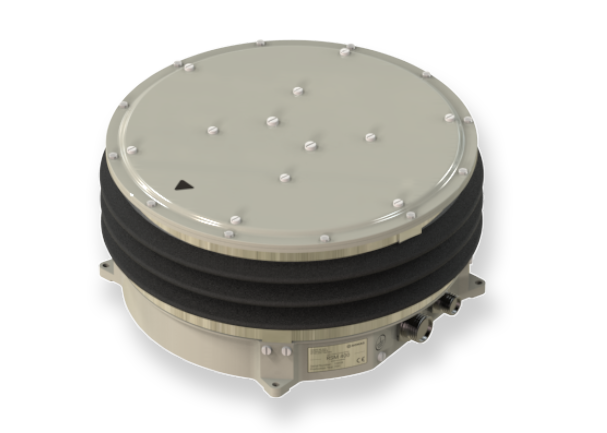 Compact and lightweight design suitable for deployment on USVs and small buoys
Adaptable to operational requirements with stronger motors and heating elements
Most cost-effective marine Gyro Mount suitable for entry-level users
Better data with cost-effective gyro stabilizer
The RSM 400 is the smallest and most cost-effective of SOMAG's marine gyro stabilizers. The ruggedized platform compensates roll and pitch motions of boats and ships moving in wavy waters. The two-axis gimbal boasts an innovative round shape, a small form factor and low weight suitable for capturing highly accurate footage even on smaller buoys and on ASVs/ USVs for unmanned missions.
Precisely adaptable to your needs
The electromechanical gyro stabilizer ensures highly accurate data capturing with electro-optical reconnaissance and surveillance camera systems up to 15 kg. Your sensor system weighs more than 15 kg? SOMAG offers a more powerful version of the RSM 400 with stronger motors, which keeps payloads leveled up to 25 kg. No matter which payload is combined with the Mount, the result is always the same – the Mount load remains perfectly balanced, even when the ground is moving.
The RSM 400 can be adjusted to meet your specific application requirements. For data collection in colder environments, SOMAG offers the possibility to equip the gyro-stabilized Mount with additional heating elements to guarantee a flawless operation down to -35 °C. High quality materials and a solid mechanical design ensure an effective use of this salt- and splash-water resistant gyro mounting system.
---
Angular Stabilization Ranges
Pitch at 0° Roll:
Roll at 0° Pitch:
Yaw (Drift):
≤± 15.5°
≤± 15.5°
no drift correction
Residual Deviation1
≤0.4° rms
Payload2
15 kg | 12.3 kg | 10.5 kg
33.1 lbs | 27.1 lbs | 23.1 lbs
Optional Payload3
25 kg | 22.5 kg | 19 kg
55.1 lbs | 49.6 lbs | 41.9 lbs
Continuous Torque
8 Nm
Optional Continuous Torque3
15 Nm
Dynamic Peak Torque4
16 Nm
Optional Dynamic Peak Torque3,4
30 Nm
Mass
6.6 kg | 14.5 lbs
Dimensions
Height5
Diameter
156.5 mm | 6.2 in
Ø335 mm | Ø13.1 in
IP Class
IP 67
Operating Temperature
-30 °C … +55°C | -22 °F…+131 °F
Storage Temperature
-55 °C … +85 °C | -67 °F…+185 °F
Communication Interfaces
USB | RS422 | RS232
Operational Voltage
28 VDC (24…30 VDC)
Average Power Consumption6 at Operational Voltage
70 W
Peak Power Consumption6 at Operational Voltage
130 W
Applied Standards
IACS E10, DNV GL, 2006/42/EC Machinery
Preliminary data, subject to change

1 Vehicle angular motion ≤± 10° / 15°/s / 40°/s2 – small periodical lateral accelerations (≤ 0.2 g) acceptable, constant lateral accelerations for more than 1 minute reduce the performance of the Mount (can be compensated by external GPS input)
2 Possible payload weight depends on lateral acceleration and CoG of payload | shown data is based on 0.3 g lateral acceleration and a CoG payload offset to the Mount surface of: 100 mm (3.9 in) | 200 mm (7.9 in) | 250 mm (9.8 in)
3 Movement reduction in roll and pitch to ≤± 12.5° / Height: 158 mm (6.2 in)
4 Maximum duration 90 s at 55 °C surrounding temperature / longer if temperature inside the unit is < 55 °C
5 Minimum 132.5 mm (5.2 in) | Maximum: 180.5 mm
6 Horizontal payload CoG offsets are not considered; without wind force and other possible external forces
Applications
Sharp images and a stabilized field of view despite high waves and rough weather conditions? The solution is Gyro Stabilization Mounts, developed especially for this purpose. Roll and pitch movements are reliably compensated to keep the sensor system perfectly balanced. Would you like to see in which cases SOMAG Marine Mounts are beneficial? We have compiled a number of examples for you that show the variety of application scenarios for our devices.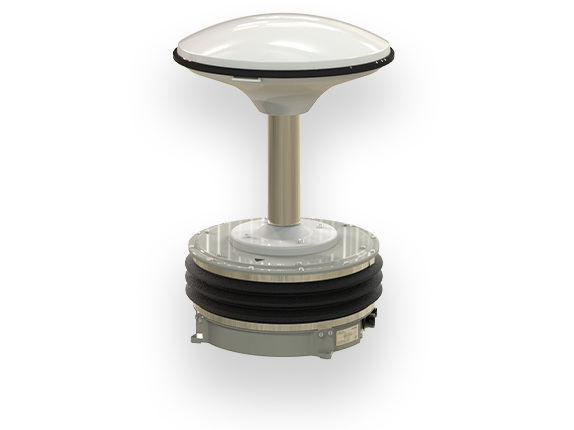 Downloads
Discover all Gyro Stabilization Mounts with their specifications at a glance in our new product catalog. Below you will also find Mount-specific documentation. Do you need other documents? Then do not hesitate to contact us. We will gladly send you manuals on request.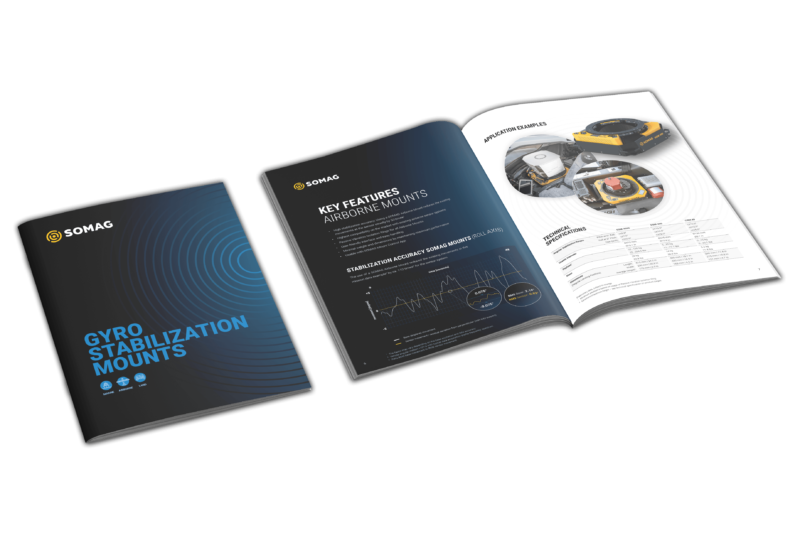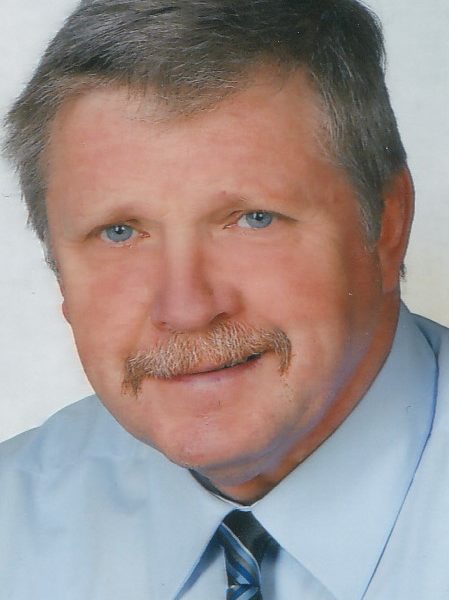 We used the RSM 400 on the upper deck of a research vessel during the field tests of the project ACTRESS – Architecture and Technology Development Platform for Realtime Safe and Secure Systems project (duration 3 years), funded by the Federal Ministry for Economic Affairs and Energy under grant no. 03SX448. Up to a wave height of approx. 1.5 m, the Mount ensured to a high standard that our Riegl laser scanner VZ2000i was stabilized and we were thus able to obtain laser scans of traffic situations at close range as part of collision prevention measures. We chose a SOMAG RSM 400, because the dimensions and technical data of the Gyro Mount have been impressive. The overall impression was very convincing. The Mount worked reliably and compensated for the ship's movements in real time.
Arnold Akkermann, Researcher, OFFIS – Institute for Information Technology, R&D-Division Transportation, Oldenburg, Germany
Mount Control App and Software Features
Mount Control App
For all Gyro Stabilization Mounts, SOMAG provides a self-developed Mount Control App with numerous features. It is your all-in-one tool for managing your Mount. The app is part of the standard scope of delivery of each device and is delivered on a USB stick together with the Mount.
Software Features
SOMAG offers optional Software Features which allow you to customize your Mount individually to your mission requirements. Feature management and settings can conveniently be made in the SOMAG Mount Control App. Get the most out of your stabilization platform and learn more about the optional Software Features.