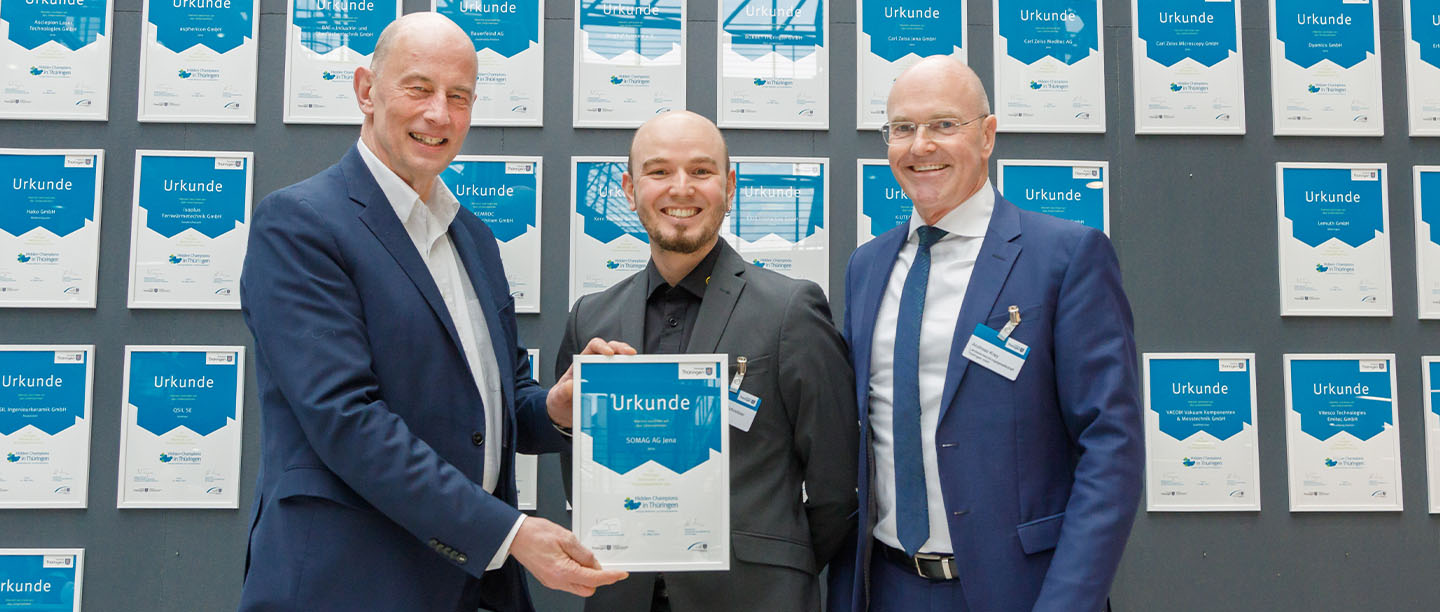 Thuringian world market & technology leaders
SOMAG AG Jena awarded as Hidden Champion
SOMAG AG Jena was awarded as Hidden Champion – Thuringian world market & technology leader. The project is a joint initiative of the Thuringian Ministry of Economics and the Thuringian State Development Corporation. In comprehensive research, almost 90 high-performing companies were identified across all sectors, which are convincing with their products and services in Germany, Europe or worldwide.

Sebastian Schreiber, CTO at SOMAG comments: "We feel very proud and honored to have been recognized as one of 89 Thuringian world market and innovation leaders!"

The award was presented on March 03, 2023 by the Thuringian Minister of Economics, Science and Digital Society, Wolfgang Tiefensee, and the Managing Director of LEG Thüringen, Andreas Krey, during the first Thuringian ChampionsMeet, a kick-off event introducing the campaign.
The keynote speaker at the launch event was Professor Hermann Simon, who coined the term "Hidden Champion". Hermann Simon is an entrepreneur, management consultant, professor emeritus of economics, author and speaker. In his presentation, he addressed the question of what characteristics distinguish Hidden Champions. According to his definition, these are medium-sized companies that are number one, two, or three in the global market, or number one on the company's continent, determined by market share. They have an annual revenue of less than €5 billion and a low level of public awareness. This is because the vast majority of these companies do not deal in consumer goods but focus on industrial goods. Hidden champions also focus on their market niche, which they serve worldwide, and each of them achieves superior know-how and a high level of production depth in their rather narrow field. Furthermore, the area of research and development plays a major role, as companies can only achieve and maintain a top position through constant innovation. Hidden champions spend twice as much on research and development and register five times as many patents as the industry average. The focus on customer proximity is another characteristic of these companies. The innovations must provide the customer with a benefit, a real added value. 38 percent of the employees of these companies have regular contact with customers, compared with only 8 percent of well-known large German companies.

Find out more about the campaign and the winning companies here: https://www.hidden-champions-thuringia.de/en/
Newsletter
Subscribe today!
Keep yourself informed about SOMAG and the latest Gyro Mount technology.
We will send you regular information about:
exhibitions and event invitations
new products, services and videos
latest application examples, projects and partnerships