Key Features
Airborne Mounts
Highest Stabilization Accuracy SOMAG Airborne Mounts reduce the existing movements at the sensor on average by factor 50
Highest Compatibility on the Market with existing airborne sensor systems
Passive Vibration Isolation Ring decoupling of high frequency vibrations (>15 Hz)
Compatible with most popular Inertial Measurement Units and Flight Management Systems remotely controlled operation via FMS / enhanced stabilization performance trough IMU data input
Small form factor with maximum performance all Mounts are optimized in terms of dimensions and weight
Mount Control App for easy initial setup, diagnosis and feature setting
The SOMAG
Product Line-up for Airborne Applications
The airborne product portfolio comprises three different Gyro Stabilization Mounts for large format, multiple medium format and single medium format sensors. All aerial camera stabilizers are designed for operation inside airplanes, helicopters or UAVs. Our products are unique as they are not limited to any particular hardware, because we want you to be as flexible as possible when choosing a camera or scanner for your projects. Our equipment can be combined with a variety of cameras systems, LiDARs and hyper- and multispectral cameras. Our Airborne Mounts are the industry standard and perfectly matching in shape and size to the sensors of leading manufacturers.
GSM 4000
DSM 400
CSM 40
Angular Stabilization Ranges
Pitch – at 0° Roll:
Roll – at 0° Pitch:
Yaw (Drift):
≤±8.8°
≤±7.0°
≤±25.0°
≤±10.5°
≤±10.5°
≤±25.0°
≤±15.0°
≤±15.0°
≤±25.0°
Usable Diameter
Ø410 mm | Ø16.1 in
Ø270 mm | Ø10.6 in
Ø130 mm | Ø5.1 in
Payload1
10…120 kg | 22…264.6 lbs
5…35 kg | 11…77.2 lbs
0…15 kg | 0…33.1 lbs
Mass
29 kg | 63.9 lbs
14 kg | 30.9 lbs
5.2 kg | 11.5 lbs
Dimensions
(Regular Leveling Positions)
Length:
Width:
Average Height2:
615 mm | 24.2 in
530 mm | 20.9 in
175 mm | 6.9 in
460 mm | 18.1 in
430 mm | 16.9 in
165 mm | 6.5 in
290 mm | 11.4 in
275 mm | 10.8 in
121mm | 4.8 in
Preliminary data, subject to change

1 Minimum payload is based on usage of Passive Vibration Isolation Ring
2 Minimum/Maximum height – see technical specification on product pages
Benefits of
Airborne Gyro Mounts
Pitch, roll and yaw angles present a constant challenge for aerial photography, geospatial data acquisition and surveillance. The solution – Gyro Stabilization Mounts, which drastically reduce the movements of airborne sensor systems. The three axes gimbals compensate arbitrary vehicle movements in all three axes. Our leading edge technology allows a high resolution image quality and more flying time at lower costs. Take control of the vibrations and movements of the aircraft and benefit from high quality aerial imagery.

Without Stabilization
Potential source of error: lack of adjacent overlap could missing data
Large overlaps to avoid missing data costs time and money, which results in an inefficient workflow
Acquisition of blurred images causes more post-processing issues
Ranging errors for LiDARs because of aircraft pitch movement
With Stabilization
Turbulences are stabilized & risk of data gaps is highly reduced
Overlaps can be reduced to 10 % or even less for an economical data acquisition process
Tremendous saving of time and money
Angular motion compensation prevents image smearing
Pitch compensation increases ranging accuracy of LiDARs
Data Comparison
Aerial imagery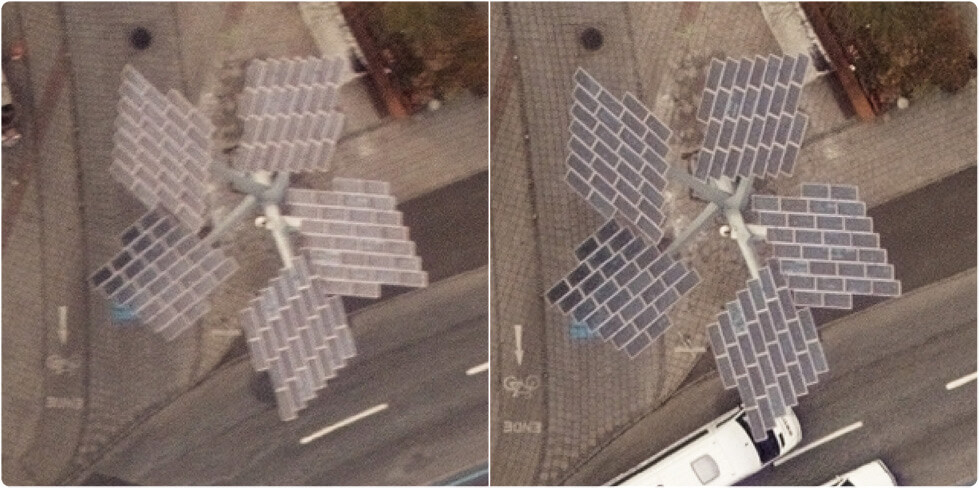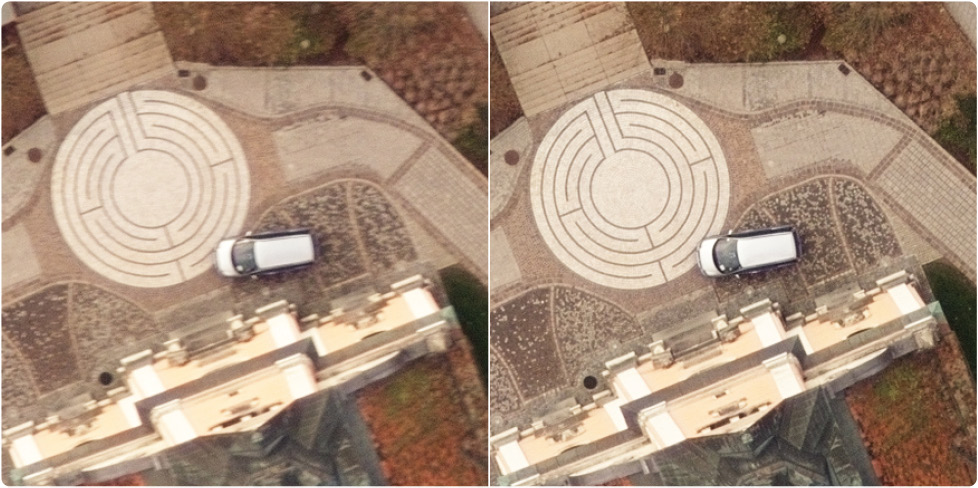 Technical Benefits of Airborne Gyro Mounts for
Lidar Systems
Very homogeneous point distribution for LiDAR systems even at very high scan rates (e. g. 300 kHz)
Regularly sampled and aligned data collection
Improved collection efficiency (coverage)
Predictable LiDAR point distribution (Pitch variability in x-axis)
Operation in a wide range
Fully automated operation
Automatic drift setting and initialising
Decoupling of high frequency vibrations (>15 Hz) because of Passive Vibration Isolation Ring
No pixel mixing under strong vibrations for Hyperspectral Scanners
Output of gimbal data at high data rates
SOMAG App for easy initial setup and diagnosis
Angular motion compensation
Remotely controlled operation via FMS
Adaptable to sensor weight from 0 to 120 kg
Large reduction of vehicle vibrations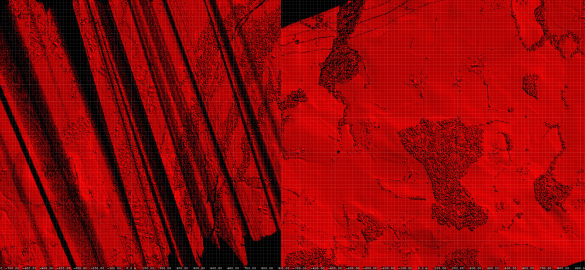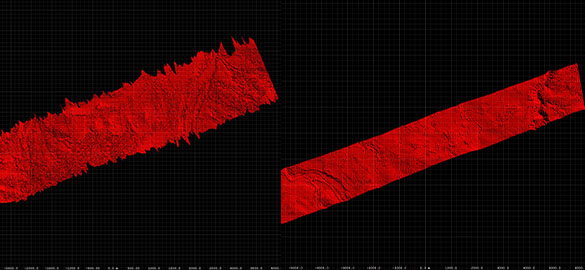 SOMAG Airborne Mounts
Stabilization Accuracy (Roll Axis)
Applications
For precise airborne surveying and blur-free images taken from above, they have become indispensable and an established part of the overall equipment: Gyro Stabilization Mounts. Installed into the fuselage of aircrafts, they compensate for its roll, pitch and yaw movements to keep the sensor in a leveled position. Would you like to see how SOMAG customers benefit from their Mounts? We have compiled a series of application examples for you that show the diversity of application scenarios for our devices.